Kandice Leaf – Registered Massage Therapist
Kandice Leaf – Registered Massage Therapist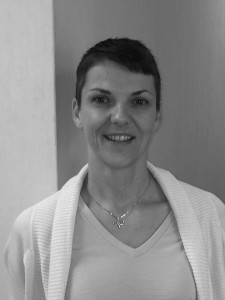 Philosophy
Kandice encourages clients to be active participants in their own health care and injury rehabilitation. Through active living and a healthy lifestyle, clients are able to manage the stresses of work and play on the body. When injury does happen, clients will be in a strong position for rehabilitation. Kandice believes clients should have a diverse health care team and with interaction between practitioners, clients will have the best tools for optimal healing and living. Kandice uses her knowledge of working with the tissues of the body, in conjunction with her fitness experience, to support her clients in working through an injury to maintaining their functionality and doing the things they love.
Educational Background
Kandice attended West Coast College of Massage Therapy and graduated from the 2200-hour program in December 2015. During her training, she was given the opportunity to work with a variety of clientele including office workers, seniors, doctors, nurses and sports teams. Her experience in the outreach program taught her the complexities of many conditions such as Multiple Sclerosis, Fibromyalsia and Parkinson's Disease. Kandice came to Registered Massage Therapy with a background as an ACE Personal Trainer. This fitness background reinforced the active rehabilitation techniques taught in the massage program and supported her work with the 2015 MS Bike Tour, 2015 Vancouver Dragon Boat Festival and the White Caps FC 2 team.
Areas of Practice
Kandice uses her knowledge of functional movement to assess every patient to determine the cause of the injury or pain they are experiencing. After assessment, Kandice uses a variety of techniques to work from the superficial layers to the deeper structures to help ease restrictions and help activate the healing ability of the body. Kandice uses a combination of manual hands-on therapy, active stretching, muscle energy techniques and Instrument Assisted Soft Tissue Mobilization (IASTM). Kandice continues to take Continuing Education courses to build her knowledge and skills so she can assist her clients in returning to their optimal performance.
Personal History
In 2003, Kandice joined a running program and while she enjoyed how her body felt when she worked out, she quickly discovered the consequences of not stretching her body post workout. With the help of Massage Therapy, Physiotherapy and Chiropractic care, she has completed a variety of running distances from the marathon distance of 42.2 km to 5 km fun races. In 2010, Kandice became an ACE Certified Personal Trainer and began helping clients with their personal fitness goals. After working with many clients, Kandice realized that she wanted to be more active in her clients' rehabilitation so she enrolled in the Registered Massage Therapy program at West Coast College of Massage Therapy. Two years later, Kandice became a Registered Massage Therapist with experience working with a variety of clientele including seniors, office workers, children as well as athletes, from the weekend warrior to professional athletes. Kandice has changed her personal fitness goals from running long distances to working towards her Black Belt in SKF Kickboxing/Karate. She continues to use a Wellness Team for her own recovery from living a busy lifestyle.