Michelle Woodruff – Registered Massage Therapist
Michelle Woodruff – Registered Massage Therapist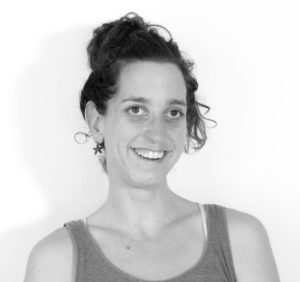 Philosophy
Michelle's philosophy is that, in order for the body to heal, it has to feel safe and heard. Whether the injury is from a sport activity, motor vehicle accident or is chronic – everyone deserves to live with less pain. Michelle takes time to allow tissue releases without force, and follows where it chooses to unwind. Listening to the body, coupled with critical thinking and evaluation skills, seeking the root of the problem is the goal.
Our bodies can hold a great amount of tension until the breaking point which can lead to pain and immobility. Too many times we allow our physical bodies to fall into the background of our busy lives until pain presents. With regular manual therapies, I believe people will be more aware of posture and daily habits or activities that could lead to tension patterns.
Educational Background
Michelle began her massage training at Vancouver School of Bodywork and Massage. She then worked as a body worker in many spas as well as cat andHeli-ski lodges throughout British Columbia for 5 years. She had encountered many situations where she was lacking knowledge and decided to attend RMT School at Vancouver College of Massage Therapy. Since graduating in 2013, Michelle has worked and learned alongside many physiotherapists in various locations. She has completed Level 1 Visceral Manipulation as well as courses in Osteopathic techniques.
Areas of Practice
Michelle enjoys combining her previous training in reflexology and deep flow massage with the technical training of Registered Massage Therapy to allow her clients to fully relax and feel secure through their treatment while also specifically targeting the source of pain and dysfunction. She believes educating the client on how their body functions is paramount and provides homecare stretches or strengthening activities for the client to continue healing at home.
Michelle blends together Myofascial Release, Neuromuscular technique and general Swedish massage along with trigger point therapy and breath facilitation to suit the needs to the client. Michele has found that consciously incorporating the patent's breath into the massage brings great success. Being a lifelong sufferer of neck pain, headaches and migraines, Michelle holds special interest in treating these ailments.
Personal History
Michelle was born and raised in North Vancouver, where she still lives. She enjoys the outdoors whenever she can whether snowboarding, hiking, surfing or sailing. She practices Sil aerials to conquer her fear of heights and enjoys seeing what the human body can accomplish. She currently loves taking Acro yoga classes. Michelle has lived in the east Kootenays, Tofino and Australia but something always brings her back to North Vancouver. A lover of the ocean, she knows she can never venture too far from it. With precious training and experience in Outdoor Recreation and being a snowboard instructor, Michelle knows the toll sports can take on the body.