Fabio Bocchetti – D.O.M.P Osteopathic Manual Practitioner
Fabio Bocchetti – D.O.M.P Osteopathic Manual Practitioner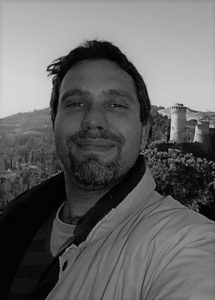 Philosophy

Regarding lesions, Andrew T. Still, the founder of Osteopathy, once said: "Find it, fix it, and leave it alone." Fabio believes that the human body has the power to heal itself, and that the role of the osteopathic practitioner is just to adjust whatever is preventing this natural healing process. Once it is fixed, we must give the body the time it needs. He uses this concept to guide his therapeutic interventions.
Educational Background
Born and raised in Rio de Janeiro, Brazil, Fabio da Graca Bocchetti earned his diploma in Physiotherapy from the University Estacio de Sa in 2004. Following this, he achieved a two-and-a-half-year postgraduate degree in Acupuncture from the Brazilian College of Acupuncture, and a six-year postgraduate degree in Osteopathy from Escuela de Osteopatia de Madrid (Madrid School of Osteopathy).
Areas of Practice

Over the past 13 years, Fabio has treated many patients and clients with musculoskeletal disorders and other conditions that are not restricted to this system, such as insomnia, migraines, gastroesophageal reflux, vertigo, etc. Fabio has the most past experience with amateur and professional athletes as well as the elderly population, and postural imbalances, however, he would love to gain expertise with new clientele and patients.
Personal History

As a Brazilian, Fabio has a great passion for soccer. He is a big fan and supporter of the Fluminense Football Club, from his hometown of Rio de Janeiro. Fabio loves to practice outdoor sports, such as hiking and jogging. He also practices Brazilian jiu-jitsu and tennis (which he is working really hard to get better at!). Furthermore, because of his rich Italian background, He loves sitting down with a plate of pasta and a glass of good wine. Since moving to Canada in March of 2016, what Fabio misses the most from Brazil and Italy is the coffee. The soothing familiarity of this tasty beverage takes Fabio back home. While in Canada, Fabio became extremely involved with jogging. He loves running through False Creek and exploring the different areas of Downtown Vancouver. He plans on maintaining this hobby as it brings him a sense of freedom and a connection to the beautiful nature in our city.