Tel: (604) 980 – 4538 | Fax: (604) 988 – 5042
200 – 145 West 17th Street
North Vancouver, BC V7M 3G4
About
At North Shore Wellness Centre, our practitioners work together to bring complementary health care to each of our patients. By working in such close proximity and with great attention to personal detail, our health care providers are able to successfully communicate any problems or pains you are feeling and use collective expertise to evaluate each patient's personal needs. We believe it is important to listen carefully to the patient and to explore diverse avenues for treatment. At the same time, our approaches are based on the most recent scientific research and state of the art techniques. The synergistic effect of this approach, utilizing the various knowledge and skills within our multidisciplinary clinic, makes the resulting treatment plan much more effective.
History
North Shore Wellness Centre began as a chiropractic practice in 1983, which even then, displayed innovation, creativity, and expertise needed to cater to each patient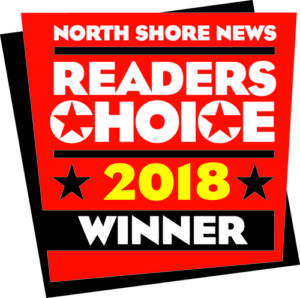 In the fall of 2001 an opportunity arose to increase the square footage of our clinic. It was the perfect time to attract quality practitioners who not only excelled in their own professions, but who could work in a team centered environment. Our multidisciplinary practice encompasses Acupuncture and Traditional Chinese Medicine, Chiropractic Care, Counselling, Homeopathy, Class 4 Laser Therapy, Registered Massage Therapy, Naturopathic, Osteopathic Care, and Physiotherapy.
Recently, we moved to a new location at 200-145 West 17th street. This new space is about 2100 square feet and is designed to promote a clean healthy feeling environment. Our interior designers and general contractor planned an amazing layout as well as made sure that virtually all of the treatment rooms have windows to get as much natural light in the space as possible. Our clinic now also has an open physiotherapy area where there is a variety of exercise equipment and an area for therapists to assess patient movement patterns in order to teach and coach them in proper movement technique.
Our Philosophy
At North Shore Wellness Centre, we aim to reach a collaborated perspective for each patient, and through this, meet your goals and expectations in any healing process. We believe that "All you need lies within," this is to say that in each person is the opportunity to be better, and by using our facility, we desire to activate this quality in order to manifest the healthiest version of YOU that we can.
In this site, you will find tools and information that come from many years of accumulated experience in diverse healing traditions which can increase your level of understanding about healing and living a healthy lifestyle. You will also be able to ask questions of various health practitioners, or search a database comprised of responses from the practitioners at the clinic. This will help you to make better health choices and decide which forms of health care appeal to you.
You can also learn more about other health related topics such as Core Conditioning, Better Breathing, Stress Reduction, and leading edge research from various sources. We would like to become a health resource that you turn to continuously, for problems that you need help with, because of this we welcome feedback. If you have any specific questions or want more information, you can email us at info@nswellness.ca or call us at (604) 980-4538. Thank you!